Today's project has been a long time in the  making.  And the inspiration for it comes totally and completely from an amazing seamstress on the other side of the world:  meggipeg.
Ever since I saw her version of a pair of Balmain jeans made from the Jamie jeans pattern by Named, I wanted my own.  But, like a lot of projects that I knew were going to take some work, I had to psych myself up.  I didn't own the Jamie Jeans pattern and, like most indie patterns, it wasn't cheap.  I kept thinking about it, and almost committed to buying the pattern before realizing that with just a little more work, I could use a pattern that I already had.  And then came the perfect impetus to get going on making my dream a reality:  I had signed up for a class.  And not just any class, but a choose-your-own-sewing-adventure kind of class where you pick what you want to work on.  The time was now.
All my class projects ready to go!
I had verbally signed up for Lauren Taylor's (a.k.a. Lladybird's) Sewing Master Class at Pintuck & Purl way back in May, when I first heard about it.  I love seeing all the things that Lauren sews, and I knew it would be a great opportunity to work on some projects that I found intimidating.  So, along with a few other projects, I came up with my pants scheme.  It was time to finally make some super-cool pants a la meggipeg and Balmain of my own.
However…I didn't love the idea of figuring out how to fit a new jeans pattern, especially when I also had so many other project supplies to buy, and that's when I realized:  I could use the Ginger Jeans pattern.  All I needed to do beyond what I was already going to do was change the front pocket and add front leg seams.  I don't hack patterns much.  But this seemed worth the time investment.  In addition to the aforementioned changes, I drew up some parallelograms for the sides of the front legs and divided up the back pocket.
Adding a seam to the front leg.
Changing the front pocket shape.
I had plans to add zippers to the front of my jeans as well, similar to Papercut Patterns' Starboard Jeans, but these didn't make it into the final pants (because I forgot to put them in before doing the pockets).  Oh, well!  I also contemplated zippers at the bottom of the jeans, but decided against those before beginning.
Ooops!  I forgot the zippers!
I didn't get a lot done on these in the class, because this was the third of my several projects (not all of which will show up on the blog–sorry), but preparing for the class forced me to make the necessary pattern changes beforehand.  It got me going on the pants and I managed to cut out the pattern and get started during class.
Just in case you're wondering about supplies, I'd love to share.  Here's where everything came from:
I love this vintage sheet as pocket material!
I did one or two things differently on the construction side of these than on my first pair of Ginger Jeans.  This time around, I interfaced my waistband (good idea!) and used true topstitching thread (so-so).  I do think I'll interface the waistband in the future, but I might try a different alternative for the topstitching thread.  Maybe I'll use upholstery or button/craft thread, or maybe I just need a bigger needle and different tension on my machine.  I had a lot of thread nests with the topstitching thread and it just wasn't my favorite overall.
Time for less talk and more pictures, right?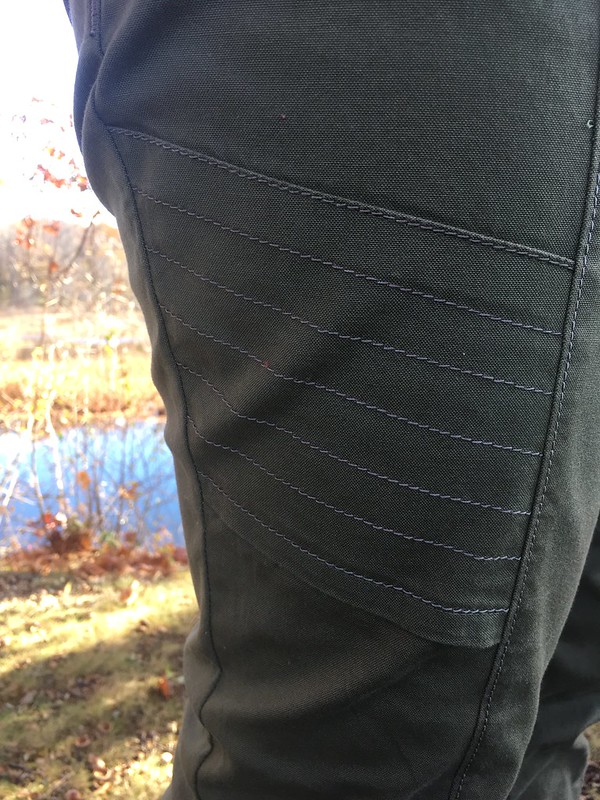 The pants themselves?  I LOVE them!!!!!  So far I've worn them about five days out of the last two weeks.  Yep!  I hope I'm not the only one that calculates how many people I'll see more than once in a week so I can rewear outfits!  But even if I am–oh, well!
I love these pants so much.  The ease is great, the fit is great, the stretch is great, and the fabric is great.  It was definitely worth the effort to make these.  Thanks for the idea, meggipeg!  I hope you take my emulation of you as a compliment.  I'm always impressed with your style.
I even made a flannel shirt to go with it!  Stay tuned for more details on that…
Recommendations
I really love these Carhartt's socks.  This isn't an affiliate link or anything (I don't do those currently.), just some socks I like.  I like the colors, and they keep my feet warm without making them sweaty, which means I can wear my Converse All-Stars or moccasin booties without getting numb toes when the weather is cold.
Robert Kaufman fabric.  I love Robert Kaufman fabric (in fact, I have some of their Mammoth Plaid that I just made into the flannel shirt of my dreams).  The fabric is moderately priced and great quality–and they have so many options.
The Imagine Gnats online shop.  I have a really hard time getting myself to buy fabric online, always preferring to see it in person first, but I have to recommend this shop.  The customer service is great and so is the curated fabric selection.  I've probably ordered twice from here and I have to give owner Rachel Gander props for the extra little sticker and piece of candy she put in my orders and for ending what has felt like an age-long search for the perfect olive green stretch twill.
And because candy corn is one of my favorite fall treats, here is a video that shows how candy corn is made: